Leaders query whether historic loss records remain relevant or meaningful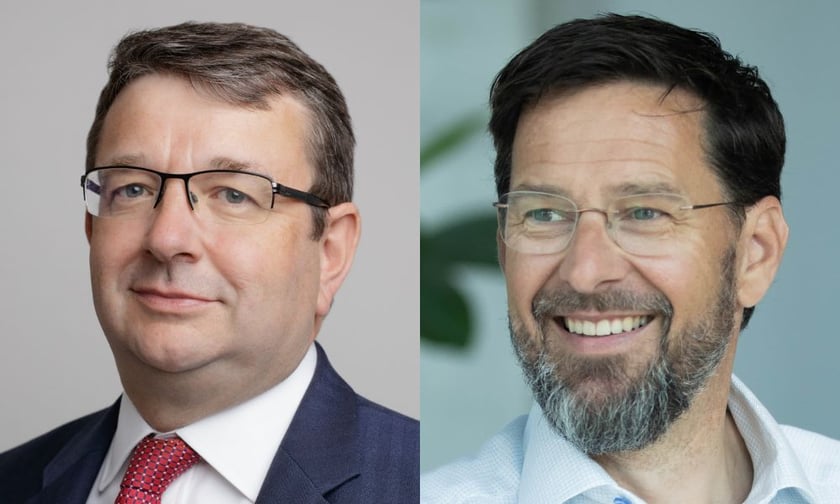 'Strength and stability in turbulent seas' – the 2023 strapline of IUMI's annual conference offers a snapshot of the tumultuous conditions currently facing the marine insurance market. Speaking with Insurance Business following the conference, two of Zurich's longstanding marine specialists Howard Kingston and Bjorn Hartong shared insights into the headwinds and tailwinds impacting clients and the brokers who support them.
Given Zurich's heavy involvement with the cargo business, global supply chain challenges represent a significant concern for circa 90% of its insureds, according to Kingston (pictured left), global head of marine. The weaknesses in the global supply chain were thrown into sharp focus amid the COVID crisis, he said, and are only becoming clearer in the context of the ongoing geopolitical turmoil being seen around the world.
Supply chain concerns are creating challenges for customers
He noted that unpicking the Gordian knot of today's complex and heavily interconnected risk environment brings you back to the economic disruption caused by COVID. Spiking inflation alongside an economic downturn has led to increased social unrest, he said, as seen by the statistic that since 2020, there have been no less than seven coups in Africa. Combine that with the unfolding situation in Venezuela, riots in the USA and the ongoing war in Yemen, and you start to get a stronger sense of the supply chain concerns causing issues for customers.
"Customers are having to really think about what they do, where they source their raw materials from and about the security that's associated with that," he said. "I think that's where we, as Zurich, come in – to advise and help and work with our customers."
In previous years, an important part of the underwriting process – in addition to examining the risk and the protections, security and risk management approach that surround that risk – was looking at the loss record as evidence of the success of a customer's proactive approach. The question he puts to his team today, Kingston said, is whether that historic loss record remains relevant or meaningful, bearing in mind the upheaval of the last two to three years.
How companies are rethinking their supply chain models
In his role as global head of risk engineering marine, security & supply chain at Zurich Resilience Solutions, Hartong (pictured right) affirmed the substantial supply chain challenges facing the market. But what's even more interesting to see, he said, is how companies are rethinking their supply chain models in the wake of this business interruption, and to see their new focus on supply chain reliability.
"They understand the need to deliver and sell because they recognize that if you don't sell, you don't make any money," he said. "They are now building in more redundancy, in order to make sure they are achieving sales. That's redundancy in raw materials, in finished goods and in more warehouses keeping the same kind of stock so if that one has a supply chain interruption, you have backup capacity and can still sell."
From his conversations with customers, he said, he's seeing first-hand the demand for a reliable and cost-efficient supply chain – and underpinning this is that all-encompassing pressure to sell. Clients recognize that the safety net provided by an insurance payout won't compensate for angry customers or the loss of market share. Additionally, if the loss happens early in the supply chain, insurance will compensate for the value of the goods at the time not the end sale price of the finished products.
Do clients now better understand their supply chain risks?
The scope of what clients want to understand about their supply chain has expanded, Hartong said, though it's often coming up against the challenge that many of these clients previously outsourced these cost optimization rounds to freight forwarders. Among pressing considerations, clients are looking to understand the link between the various locations in their supply chain risk environment and what impact an interruption to one part of the chain could have on other facilities and locations. 
"They want to get a better understanding of the interdependency between sites and they need help getting that insight," he said. "A lot of companies are now using twin model systems where they model their supply chain and run various risk scenarios through it. It's interesting to see that this has less to do with insurance – except when it comes to a claim – and a lot more to do with risk management, which is where they need expertise.
"And that is the expertise we can offer them because we have practical experience of what's going on and of what's being implemented successfully… And I think this [state of affairs] was reflected at IUMI in the presentations that we heard. Overall, for customers, there's a sense of not having a clear view of their supply chain and its risks so they're looking for clarity. Once they have that, they have an overview of the risks and from there they have to figure out how to manage them."
How Zurich is supporting customers at this time
With customers facing such a complex and multifaceted risk environment, Zurich takes its responsibility to help them understand their supply chains and the risks inherent to these very seriously. That all starts with asking the right questions to logistics managers, Hartong said, an exercise that can highlight the knowledge gap within different businesses operating in the same industries.
Often the issue is that businesses have not built their supply chains with (sufficient) business continuity in mind, he said, which becomes clear when you ask questions about the relative importance of different sites and the interconnectivity between them. However, asking the right simple questions is a great way to get clients thinking differently about how to put a secure supply chain in place. Zurich looks to offer practical help by sharing its expertise and by offering clients practical examples of what has worked for other businesses in their sector or territory. 
"The knowledge and experience of our global risk engineers is how we can help customers ask the right questions, and [benchmark] their performance within their industry," he said. "As an insurance company, we see all types of industries working globally, that's the knowledge base that we have and that's the power we have. We can use all that knowledge to the benefit of any of our customers and I think that's the best added value an insurance company can bring."
Understanding the true value of data and information
Building on that, Kingston emphasized that for Zurich to successfully partner with customers looking to bridge the supply chain challenges they're facing, receiving the right quality of information and data is crucial. In the past, he said, at that first point of contact with the underwriter, customers tended to be somewhat reluctant to give the granularity of quality data required, whether because they could not easily obtain access to that data or because they didn't understand how the underwriter wants to use that data.
"I think as an insurance industry, we have to take it on the chin that sometimes in the past there may have been occasions where granular data was used in a way that wasn't always helpful to the customer getting what they wanted," he said. "But today it is very different. I think we recognize the challenges customers face and that we need to provide solutions. And it all comes back to the customers' need to sell and that we need to sell our products too."
It's great that Zurich uses the data provided by customers to assess their risks, and to make pricing decisions and to set conditions, but that's not where the full potential of this data lies. Critical to creating a more sustainable and healthy marine insurance marketplace is enlisting the expertise of Hartong and his team to create value-added insights for customers. It's a win-win approach, Kingston said, as it helps customers and it also helps Zurich in the long run by potentially reducing claims.
"And that's one of the key messages from me," he said. "It's about recognizing what that relationship with the customer looks like, and that a closer working relationship between the insurance industry – and I include brokers in that – and our customers means we create better solutions and means we can better help manage clients' risks."
Keep up with the latest news and events
Join our mailing list, it's free!