"He has been a guiding force in providing continuous instructional leadership"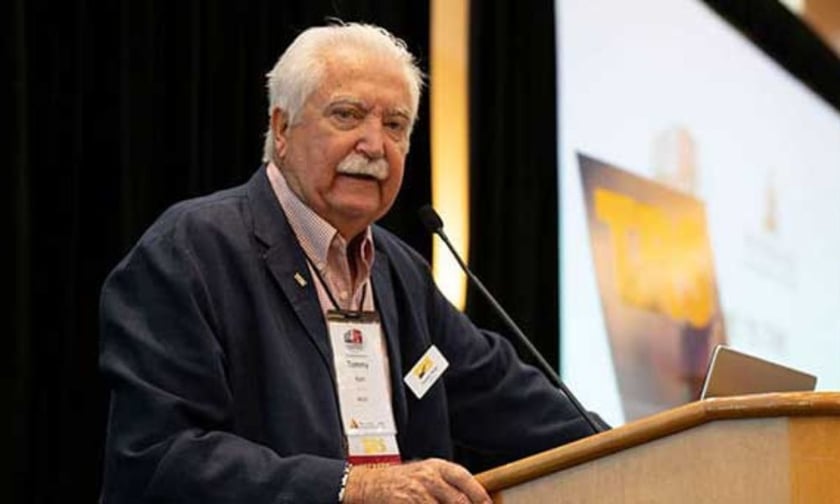 The Motor Carrier Insurance Education Foundation (MCIEF) has bestowed the Jim Harrison Award to its founder, Tommy Ruke (pictured above).
The achievement award is the highest honor conferred by the non-profit foundation, given in recognition of exceptional leadership and contributions to the transportation insurance sector. It was named after the late Jim Harrison, who served as a mentor to Ruke.
Ruke, who has spent four decades of his career educating insurance professionals about the transportation sector, was presented the award during MCIEF's 2023 Conference Honors Reception held in October.
The award presentation included a special tribute from Lou Welch, the 2019 recipient of the Jim Harrison Award.
A leader in transport insurance education
In an emailed news release, MCIEF board chairman Gary Flaherty spoke of Ruke's career achievements and said he "embodies the spirit of the Jim Harrison Award."
"He has been a guiding force in providing continuous instructional leadership for over four decades, and his dedication to educating insurance professionals working with motor carriers is second to none," Flaherty said.
CEO and executive director John Love also praised the work that Ruke has done to provide "the best trucking insurance insight to literally tens of thousands of industry leaders and decision makers."
"There will never be another Tommy Ruke, and we are grateful to him for his unending curiosity, wisdom, and friendship," Love added.
Ruke founded the MCIEF in 2012 as a way to provide trucking insurance education to industry professionals. He designed an extensive curriculum in service of this goal and later developed the Transportation Risk Specialist (TRS) designation.
His other career highlights include time spent leading the American Association of Managing General Agents (AAMGA), now known as the Wholesale & Specialty Insurance Association (WSIA). He played a key role in establishing the association's education program and later served as AAMGA University Chancellor for several years.
What are your thoughts on this story? Feel free to comment below.
Keep up with the latest news and events
Join our mailing list, it's free!