Report identifies a number of key emerging areas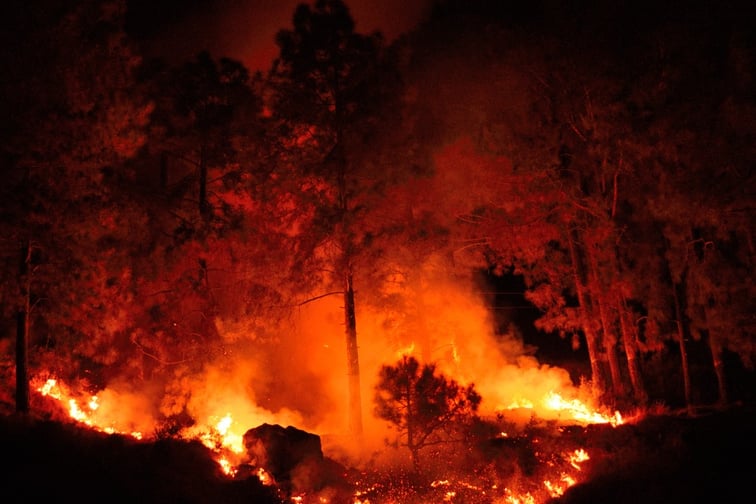 Recent research by Chaucer indicates an escalating wildfire risk in several North American regions traditionally considered "low-risk." The study specifically identifies the Appalachians, Southern Rocky states, Alberta and British Columbia, and Texas as emerging areas of concern for potential catastrophic wildfire insurance losses.
The North American Wildfire Report by Chaucer found that these areas are now more prone to prolonged droughts, intense heat waves, and delayed onset of cooler autumn and winter temperatures. These climatic conditions are becoming increasingly similar to those on the West Coast, a region that has experienced significant wildfire activity in recent years.
Chaucer's analysis raises concerns about the adequacy of existing catastrophe models in accurately assessing structural characteristics relevant to wildfire risk. Key factors, such as the presence of defensible space around properties or the materials used in fences and deck coverings, play a crucial role in determining a building's vulnerability to fire.
While many models use advanced technology, including artificial intelligence, to enhance hazard prediction, there remains a significant gap between their capabilities and the quality of specific wildfire exposure data. This gap contributes to the hesitation among some insurers to underwrite wildfire-related risks.
"An increase in severe weather is directly causing key wildfire risk factors to increase, which has dramatically heightened the risk of catastrophic wildfire damage in areas that were previously not of major concern for insurers," said Dan Foley, Chaucer head of catastrophe research.
This rapid acceleration of risk also means that many catastrophe models are out of step with the increasing risk, Foley said, which also means that they cannot accurately gauge the scope of potential damage.
"Despite these shortcomings, even simple modeled approaches are preferred to relying on historical loss data alone. Most regions outside of California and the West Coast have not experienced any catastrophic wildfire loss. The best way to deal with this problem is to use probabilistic approaches anchored in the best available science and data, and that is what catastrophe models were designed to do," Foley said.
What are your thoughts on this story? Please feel free to share your comments below.
Keep up with the latest news and events
Join our mailing list, it's free!