Businesses aren't always required to buy workers' compensation insurance for contractors but there are benefits for doing so. Learn more in this guide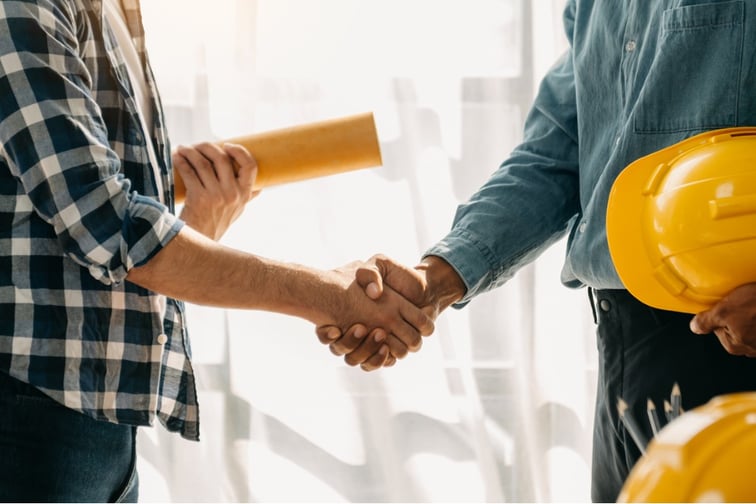 While not legally considered as your employees, workers' compensation laws in some states treat contractors, subcontractors, and other hired personnel as your own staff. This means that your business can be held liable if these workers become sick or injured while working for you.
To avoid liability, industry experts recommend that businesses require contractors to carry workers' compensation coverage before agreeing to work with them.
But how does workers' compensation insurance for contractors work exactly?
Insurance Business answers this question and more in this article. We also talked to an expert from the Insurance Information Institute (III) to explain the benefits of taking out this type of coverage. If you're working with an independent contractor and want to know if this is the kind of protection your business needs, then this guide can help. Read on and learn more about workers' compensation insurance for contractors.
State laws don't often require self-employed individuals and independent contractors to purchase workers' compensation insurance but there are benefits for doing so.
"All states workers' compensation laws are different," Loretta L. Worters, vice-president of media relations at III explains. "If the state laws require employees and contractors to have workers' comp, you'll have to provide coverage. But if it doesn't require it, it's still important to have coverage – even if you have health insurance as it can help prevent financial hardship."
Unlike workers' compensation policies, health insurance plans don't provide coverage for job-related injuries and illnesses. Having workers' compensation insurance for contractors ensures that these types of workers are financially protected if they get sick or injured while doing their jobs.
Another benefit of getting coverage is that it helps independent contractors in fulfilling the terms of their contracts. 
"If you're a sole proprietor, your state may not require buying workers' comp insurance for self-employed businesses," Worters adds. "If you work as a general contractor or a subcontractor, you may have to buy workers' comp insurance if the contract you signed requires it."
Many businesses require independent contractors and other hired staff to provide proof of workers' compensation coverage. This is to avoid financial liability if a workplace accident occurs.
Independent contractors are workers who a business hires for a specific project as they possess the specialized skillset required to get the job done. Instead of working as a full-time employee, contractors often work on a freelance or contractual basis.
Independent contractors are also referred to as 1099 contractors for tax purposes. The name comes from the Internal Revenue Service's (IRS) Form 1099 that contractors must complete to report their earnings.
A 1099 contractor varies from a W-2 employee, which is what the IRS calls someone who is employed by a business.
W-2 employees have their payroll taxes deducted automatically from their paychecks and paid to the government by their employers. Contractors, meanwhile, are responsible for filing and paying their payroll taxes on a quarterly basis.
Contractors are also not entitled to the same benefits as full-time or part-time employees. Health insurance and workers' compensation coverage are some of the benefits that independent contractors don't typically get from employers.
Workers' comp laws vary by state
Workers' compensation laws, however, sometimes vary with a state's tax rules.  
"Workers who are under your direct control may be considered your employees for workers' compensation purposes, regardless of their tax status," Worters explains. "You may need insurance even for those receiving 1099s. So, it's important to work with your insurance professional to make sure you have the right type and amount of coverage."
If you want to know how workers' compensation rules work in your state, you can click on the links in the table below. These will lead you to each state board's workers' comp page.
Workers' compensation insurance for contractors – state-by-state breakdown
Workers' compensation is a form of business insurance that pays for the cost of medical care and a part of lost income of employees who get injured or sick due to a job-related accident. This policy provides the same type of protection, regardless of whether it has been purchased by your employer or you took it out on your own as an independent contractor.
Workers' compensation insurance comes in two parts, according to the III:
Part one – Workers' compensation
In this part of a workers' comp policy, the insurer agrees to pay any state-required compensation amount. Coverage isn't capped, meaning the insurance company will pay any costs arising from a work-related accident.
Part two – Employers' liability
This protects a business financially against lawsuits resulting from a job-related illness or injury that is not subject to state statutory benefits. Unlike part one, this policy comes with a monetary limit.
Independent contractors are often not legally considered employees. But the institute points out that under workers' compensation regulations in most states, contractors and hired staff are considered as employees. If you're working them, you may be held liable if they get sick or injured while on the job, particularly if they don't have coverage.
Almost all states, except Texas, require businesses with a certain number of employees to purchase workers' compensation insurance. Failure to do so has corresponding fines and penalties, which vary per state.
"Not carrying insurance for five or fewer employees is a misdemeanor, but not carrying workers' compensation insurance for more than five employees is a felony," Worters explains.
"If you don't carry workers' comp, and you are supposed to, depending on the state, there is a penalty of up to $2,000 for every 10 days without insurance. There are also penalties for misrepresentation of payroll or employee duties and failure to keep adequate records."
Workers' compensation insurance policies provide coverage for:
Medical and treatment costs: These include hospital and doctor visits, surgeries, and prescription medication. Some policies cover expenses related to COVID-19, although coverage depends on the industry.

Ongoing care expenses: These include occupational, physical, and speech therapy, and other rehabilitation expenses incurred if an employee needs extended medical care.

Lost wages: Policies cover a portion of an employee's salary if they need to take time off to recover from a work-related illness or injury.

Legal expenses: These include legal and settlement costs arising from a lawsuit.

Disability benefit: Workers' compensation insurance for contractors provides full or partial disability benefits if they become disabled due to a work-related accident.

Death benefit: This pays for funeral and burial expenses. It also provides financial support for the deceased employee's loved ones.
While independent contractors are not usually required to take out workers' compensation insurance, coverage is mandatory in certain industries. Contractors working in the construction sector, for example, are required to carry workers' compensation coverage because of the level of risk they are exposed to.
Workers' compensation premiums are calculated using a range of risk factors, which vary greatly depending on the industry. That's why it's often difficult to provide an accurate estimate of how much workers' compensation insurance cost for contractors.
Generally, insurance companies use this formula to determine workers' compensation rates:

As you may have noticed, there are three main factors involved:
Payroll: Insurers calculate premiums based on your company's projected annual payroll. This includes worker salaries, overtime pay, commissions and bonuses, leave payments, and partial Social Security and Medicare taxes.

Job classification code: This is a four-digit number that indicates the type of work a job entails and the risks associated with it. Class codes are either set by the National Council on Compensation Insurance (NCCI) or the state's workers' compensation bureau.

Experience modification rating: This involves your company's claims history. Also referred to as EMR or experience mod, your rating can range between 0.75 and 1.25, with 1.0 being the industry average. An EMR of less than 1.0 means your losses are below average, making your business eligible for reduced premiums.
Learn more about how workers comp is calculated in this guide.
Every year, the Insurance Business research team polls hundreds of industry specialists. This is to find out the most important attributes they look for when searching for workers' compensation insurance policies that match their clients' needs.
The survey results reflect what insurance brokers prioritize the most. But the findings can also serve as a guide for independent contractors deciding on which workers' compensation insurance providers offer the best protection.
Here are the top factors ranked in order of importance: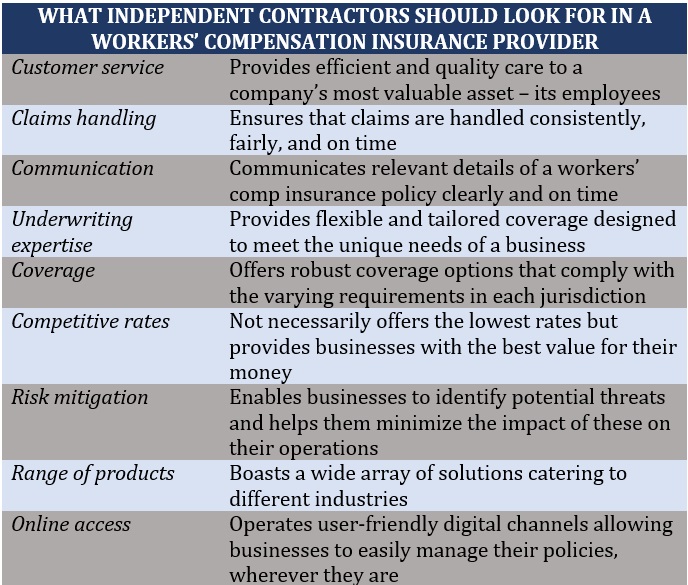 Our Best in Insurance Special Reports page is the place to go if you're an independent contractor searching for insurers providing quality workers' compensation coverage. The insurance companies featured in our special reports were handpicked by their peers and vetted by our panel of experts as trusted and dependable market leaders.
Recently, Insurance Business unveiled the five-star winners of this year's Top Workers' Compensation Insurance Companies in the USA awards. To come up with the list, our research team conducted several one-on-one interviews. Team members also surveyed hundreds of workers' compensation specialists to get their perspective on what makes a workers' comp insurance policy the right fit for their clients.
You can check out the full report, along with this year's complete line-up of awardees by clicking the link above.
Do you think workers' compensation insurance for contractors is a worthwhile investment? Feel free to share your thoughts below.
Keep up with the latest news and events
Join our mailing list, it's free!