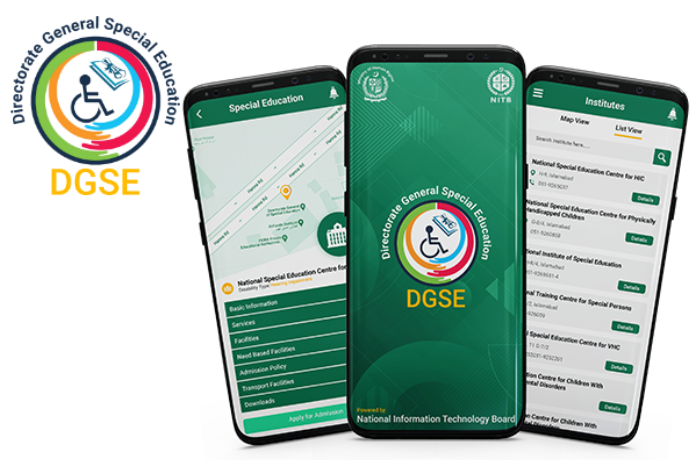 [ad_1]

A brilliant initiative by the National Information Technology Board (NITB), the DGSE app is especially for differently abled people. It aims at creating educational and job opportunities for individuals who have a physical or mental limitation. Around 30,000 children are not attending school due to some kind of disability.
About
There are many children and young people who might be very bright but are left behind as they are handicapped. It becomes very heart breaking for the child and parents. Despite having intelligence and a strong skill/skills but due to  physical or mental limitation, the child is unable to reach his/her true potential.
Thus to ensure that every child has an equal opportunity, the government wants to provide facilities to individuals who suffer from any kind of impairment or disability. The NITB created an application helping parents and guardians find information about available institutions and services related for inclusive education in DGSE centers and FDE colleges. Thus students and parents/guardians can find facilities nearest to their homes via this app.
Further students can apply online making it more convenient for them to complete their education. It is free of cost and therefore making it possible for poor families to have access to these facilities. The app tracks application status.
"This APP will inform the people /parents /guardians about the services/facilities available in the DGSE's centres / institutes    as well as in the FDE schools for inclusive education. It will assist them in the selection of suitable educational institution near to their residence. They can apply online without Physical access to the relevant centre. It also inform about the status of their submitted applications. It will be helpful to bring differently-abled school children in the education system."
Source: National Information Technology Board (nitb.gov.pk)
The institutes included in the app work under the Directorate General of Special Education (DGSE). Other than education, information about services are also provided; physiotherapy, occupational therapy, speech therapy, audiology, medical, ophthalmology, artificial limbs.
You can download it here:
DGSE App For Differently Abled Persons. – Apps on Google Play
Let's hope for a brighter tomorrow!
With developments like these in the field of education, we can hope for a better future. Education is the most important weapon that can make a nation strong. Many disabled people wish to study and are also quite intelligent but fail to pursue their dreams due to lack of access to opportunities. This app will make their lives easier and motivate them to achieve their goals. If anyone you know needs this app, please share the details with them.
Currently the app is available for Islamabad only. We are hopeful that it will soon cater to other areas also.
Educationist, researcher, writer and a passionate learner from Islamabad. She has been working as a freelance writer for more than 10 years now. From academic to content writing. Finally, she is doing what she loves; writing for education. You can reach her at editors@educations.pk
[ad_2]