One company is slashing the number and magnitude of water-related claims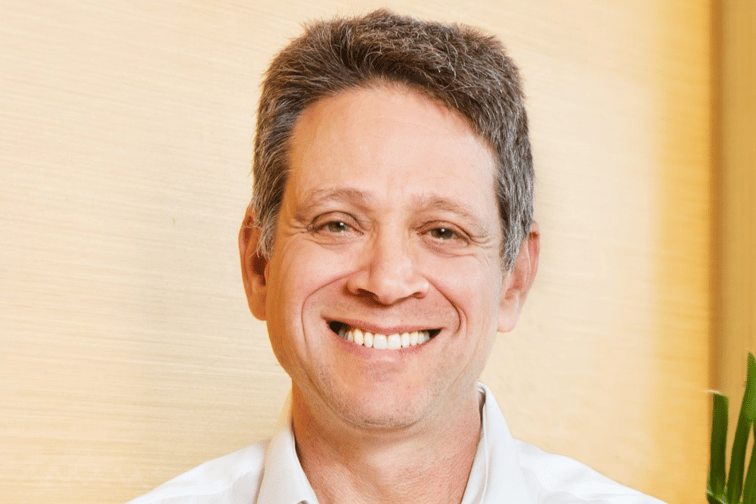 This article was produced in partnership with WINT – Water Intelligence.
Desmond Devoy, of Insurance Business America, sat down with Yaron Dycian, co-founder and chief product officer, for WINT – Water Intelligence, to discuss how the startup company is teaming up with several insurance companies to use AI to track water problems in buildings – and contain water damage claims.
Groundbreaking technology that uses AI to monitor water leaks and usage in commercial and residential buildings and on construction sites is significantly impacting dynamics in the builders' risk and P&C markets.
WINT Water Intelligence, founded in 2018, uses AI to analyze water consumption in buildings and stops leaks at the source. Its technology is used on construction sites worldwide, in such iconic buildings like the Empire State Building in New York City, as well as in modern facilities such as Microsoft's and HP's R&D facilities. It can alert the staff that there is a water leak and automatically shut off the water to mitigate damage. This is done through advanced, real-time monitoring and artificial intelligence, which can let property managers know that there is, for example, a leak on the seventh floor, and how to mitigate the damage.
A deeper dive into WINT's technology
WINT systems can measure everything from the amount of water a toilet will use when flushed, to even noticing the nuance of how much water is being used if, say, a person who has just flushed the toilet also runs the tap to wash their hands while the toilet bowl is still filling up.
This data is compiled, and patterns established – so that when an anomaly is detected, building managers are alerted.
"Water in buildings has become one of the biggest sources of losses and, in percentage terms, one of the biggest sources of loss ratios, on both P&C and builder's risk policies," said Yaron Dycian (pictured top), co-founder and chief product officer. "Risk policies' water damage is about 30% of the loss ratio. In P&C, it's the third biggest cause of losses."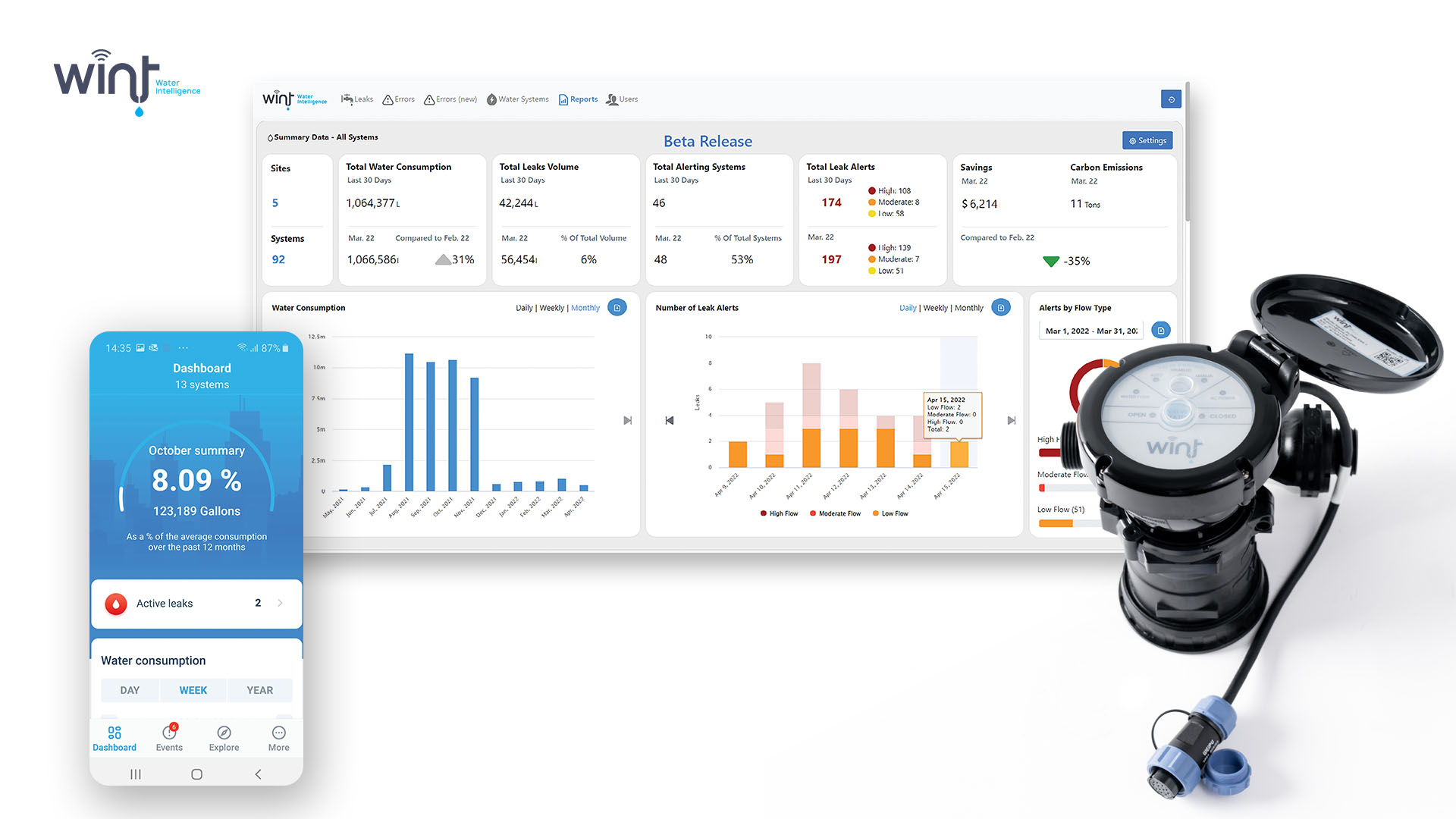 By his numbers, builders' risk policies have seen their deductibles rise from tens of thousands of dollars four years ago to between a quarter of a million and up to a full million dollars now.
"Damages in the millions are common, and will reach many tens of millions," he said.
WINT has many partnerships with companies across the insurance landscape, from carriers such as AXA XL, brokers like Howden, MGAs, and risk engineering firms. Its technology can be used by construction companies to operating in commercial and multi-tenant apartment buildings. Numerous insurance carriers provide financial benefits to WINT-protected facilities through reduced deductibles and premiums, while others simply require WINT to be installed as a pre-requisite for coverage.
About six months ago, WINT announced a performance warranty program, designed to mitigate the rising deductible in the builders' risk market. The program, backed by HSB, covers damages up to a quarter of a million dollars for water damage on WINT-protected construction sites. The high-traction program is helping developers and general contractors who are concerned about the rapidly rising cost of insurance and deductibles with exclusions specifically for water leak damage.
The warranty program, together with WINT advanced water management solutions, will be introduced to the industry at the International Risk Management Institute (IRMI) 2023 Construction Risk Management Conference (CRC) on November 12-15, in Orlando, Florida.
Detecting damage, saving money
Beyond insurance concerns, Dycian noted that there are also conservation concerns at play too. A running toilet can run around 100 gallons per hour, which can add up over the year. If not addressed, "you'll find that you just wasted around $15,000 of water per year," from something that could have been a 10-minute fix.
Another point that is often lost is that this waste creates carbon emissions too.
"We save our customers about 25% of their water consumption," he said. At the Empire State Building, for example, the technology caught a problem that was throwing water down a drain at a rate of $100,000 a year.
A survey of sites that used WINT's technology, found that there was less damage on WINT-protected sites than those who did not have the technology installed. Of the sites surveyed, 41% of sites used WINT technology. But those WINT sites only accounted for 11% of claims, so claims were down 75%, and resulted in only 4% of payouts, or a full 90% reduction (from 41% to 4%).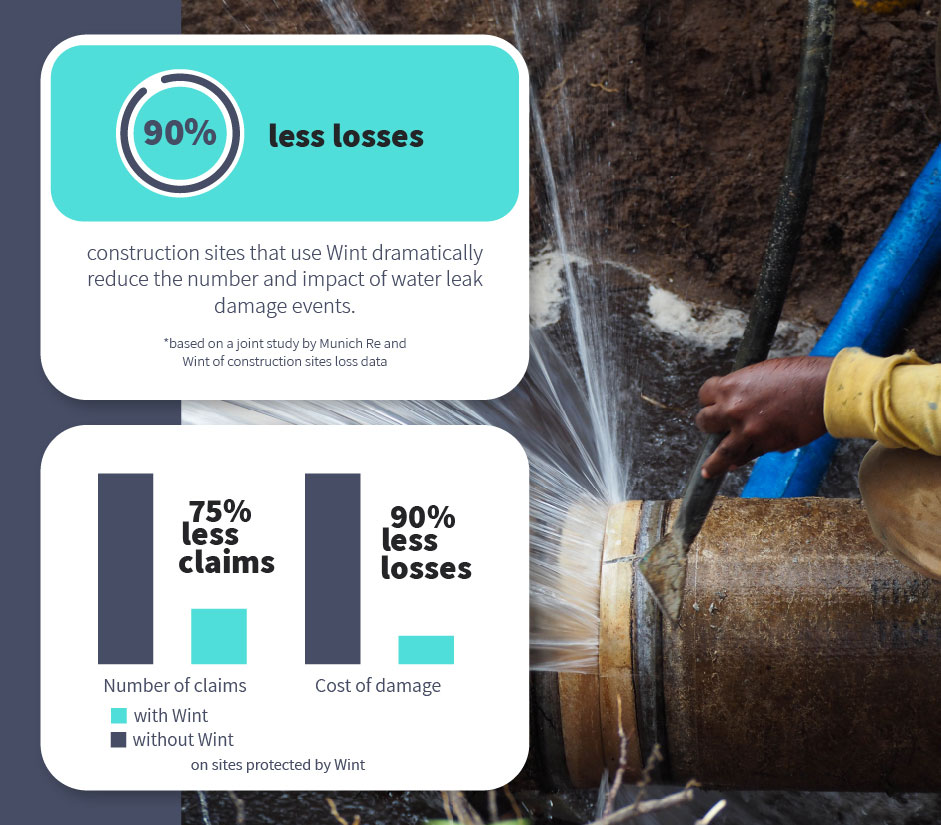 "Think of what that does to the profitability of a portfolio of builders' risk policies," he said. "This is why we are getting so much traction."
WINT has offices in the United States and United Kingdom, along with distributors in various parts of the world. There are about 400 enterprises that use the technology, and their systems are deployed at around 10,000 locations, including office buildings, multi-tenant buildings, and construction worldwide. A company like HP, for example, uses WINT across its facilities across the globe.
Keep up with the latest news and events
Join our mailing list, it's free!