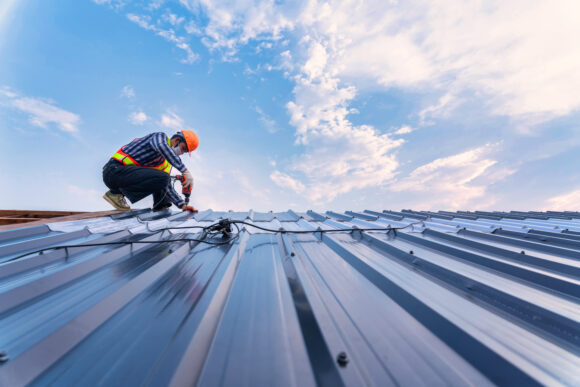 This post is part of a series sponsored by IAT Insurance Group.
The bite of winter and early spring storms pack a punch that could impact the condition of all commercial building types. Consider this true claim story:
A moving and storage company's warehouse developed a leak at the roof's skylight that went undetected for months. Ultimately, it damaged not only the roof's structure but also the property stored inside. Damage to the structure and their customers' personal property was significant.
As in this case, damage and repair costs can escalate quickly when a regular inspection is put off. As the weather improves, now is the time to identify any roof damage that may have occurred over the winter months.
4 best practices for preventing and minimizing roof damage
Roof inspections may not only detect current leaks that were not otherwise obvious but can help detect smaller issues that may lead to roof leaks and allow time for proactive repairs to prevent water damage.
1. Schedule regular inspections
It's imperative to perform regular roof inspections to detect any deficiencies that may lead to damage. You may also uncover damage to building contents that have already occurred. Quarterly intervals are a good rule of thumb for scheduling inspections. Weather permitting, you can plan for inspections on the first day of each season or any other four dates that occur about three months apart.
Self-inspections are an acceptable practice where it is safe to do so. Know your limits and if in doubt, hire a licensed roofing contractor.
2. Know what to look for
Depending on the type of roof you're inspecting, you'll need to know exactly where to look for damage, deterioration and hazards. Look for the following:
Clogged drains. Clogged drains cause water retention that will wreak havoc if not properly addressed. Clearing drains of leaves and debris helps ensure water doesn't back up and form puddles on the roof. Look for residual storm damage around flashing or any areas you can easily observe as well.
Asphalt roofs. Flat asphalt roofs may develop bubbling and cracking. This often creates weak points and may lead to water infiltration. Make a note of areas of concern, schedule a professional evaluation and possible repair.
Overhanging trees. Trees present a two-fold problem: Branches can break off during a storm and cause physical damage to a roof, and fallen leaves can clog drains. Preventive measures include having trees trimmed by a qualified professional so branches no longer extend over the roof's surface.
Ponding water. Ponding water spots could indicate clogged drains, but they may also signify low points on the flat surface that are not pitched to allow proper flow into a drain. You will repeatedly notice ponding in the same area if the roof is not pitched correctly. If the problem isn't addressed, it can lead to premature failure of the flat roof.
Skylights, ventilation and piping. Any passageway or window that opens to the roof is a potential trouble spot. Roofs with skylights frequently encounter some leaking or seepage around the seals bordering the opening. Pay close attention to these areas due to the nature of the roof's design.
Look for weather-related damage. This includes damage to flashing and roof surfaces that may have been caused by hail or strong winds. Any loose, missing or separated roofing components could provide an entry point for water. These checkups should be done periodically and immediately after strong storms.
3. Enlist the help of a professional
Roof damage and leaks must be repaired quickly before any more damage occurs to the building and/or its contents. Hire an experienced commercial roofing professional who will perform the inspection, detail any damages and provide an estimate for repair.
TIP: Use the right professional for the job. For example, tree trimming should be left to experienced tree services even if a roofer offers to address the issue. Similarly, have an experienced roofer patch your roof, not a local handyman.
4. Check your warranty
The cost of repairing a defective product or improper installation could be the responsibility of the roofing materials manufacturer or contractor. The installing contractor can help you understand what damage might qualify as warranty work, especially for newer roofs. Note, warranties vary greatly among roofing systems, manufacturers and contractors.
ASK A LOSS CONTROL REPRESENTATIVE
Have a question on how to mitigate risk? Email losscontroldirect@iatinsurance.com for a chance to see your question answered in a future blog.
Topics
Commercial Lines
Interested in Commercial Lines?
Get automatic alerts for this topic.